Quicken Your Water Damage Remediation Process in New Providence with SERVPRO
8/21/2022 (Permalink)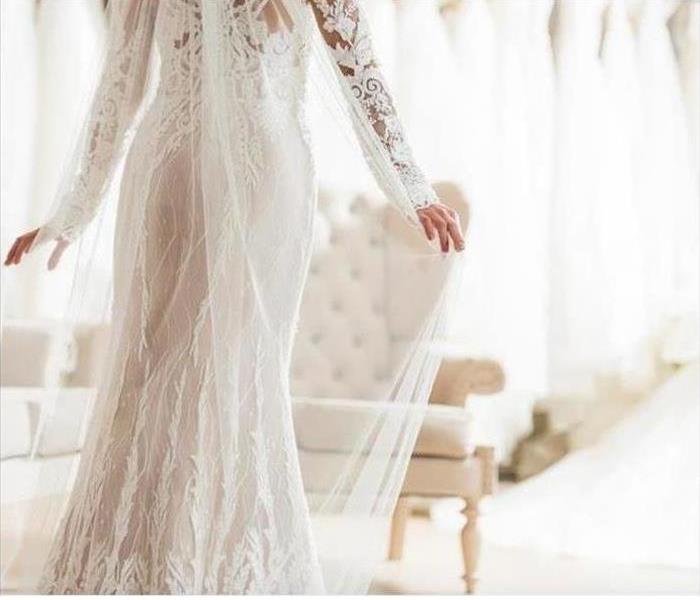 Don't let water damage dampen your wedding plans in New Providence! Call SERVPRO for cleanup and restoration.
Boutiques and Bridal Shops Benefit from SERVPRO's Services
Water damage affecting stores can happen anytime from accidental or negligent leaks. When that happens, you should focus on how to save items and restore the store to its preloss state. A bridal shop can develop a wide range of issues, including secondary damage affecting high-value items such as gowns. A response plan that relies on variety will likely produce a better outcome.
Commercial water damage in your New Providence bridal shop will likely affect many areas. While most of the damage may be from the water pooling on floors and other surfaces, the incident can affect your store differently. Contents made of fabrics such as gowns have hygroscopic properties meaning they can easily absorb moisture from the air, which can ruin them. Our SERVPRO technicians anticipate such problems and can help move the contents from your facility. We can section of the property unaffected by the spill. We can also take further steps, such as sealing doorways with plastic sheets to limit air movement between affected and unaffected areas, thus limiting the effects of high humidity levels on your contents.
The restoration process differs at different stages. Immediately after discovering the spill, removing water from visible surfaces is the main priority. Having efficient extraction equipment is crucial to ensure that no standing water remains in the structure after 24 hours. After dealing with standing water, there is a need to address water in concealed areas such as subfloors or wall cavities. Our SERVPRO technicians have access to a wide variety of equipment, including high-pressure pumps, truck-mounted water extractors, and submersible pumps. We also have specialized cavity-drying systems, which help us remove moisture from concealed areas with minimal demolition.
Drying moisture remnants from the shop is necessary to comfort and prevent microbial growth. Various types of dehumidifiers can help dry the property to the desired level. Our SERVPRO technicians use different dehumidifiers, including conventional refrigerant, low grain refrigerant, and desiccant dehumidifiers. Conventional ones are efficient when drying up to 55gpp humidity level. If we need further drying, we can use LGR dehumidifiers which can achieve levels as low as 40gpp.
Water loss situations can be full of surprises, so preparation is necessary. Call SERVPRO of Western Union County at (908) 460-5426 to help provide various solutions. "Like it never even happened."