A Very Wet New Providence Warehouse
8/21/2022 (Permalink)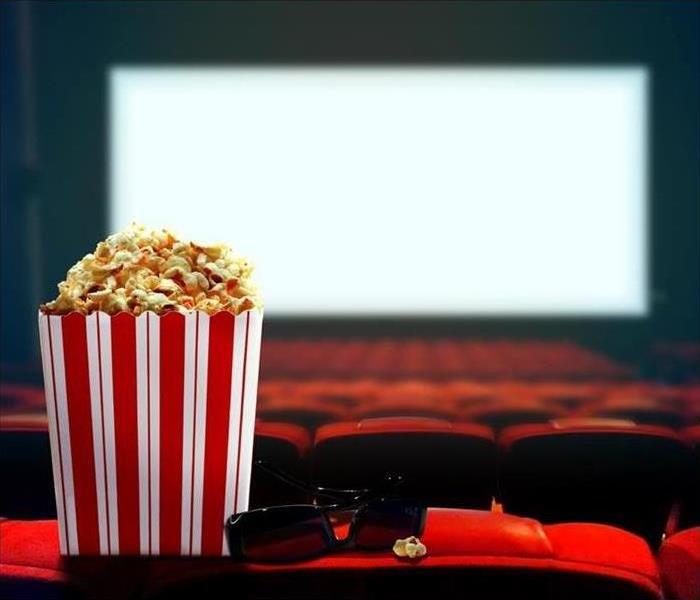 Enjoy a show with a box of popcorn and leave the restoration of your New Providence warehouse to SERVPRO. "Like it never even happened."
Selecting the Correct Drying System to Remediate Flood Damage in Your New Providence Business
After the flooding of your New Providence commercial site, drying out the structure is not as simple as merely using commercial-grade pumps and extractors to suction up the liquid water. Although aggressive and thorough water removal is the foundation of appropriate flood remediation, the final drying step is critical. Understanding how drying elements work together clarifies why we use specific techniques and equipment when restoring your business property.
Choosing Between Open and Closed Drying Systems
Best restoration practices dictate which drying system is preferred when we plan for your New Providence warehouse flood damage recovery. For efficient drying, we must balance temperature, air movement, and humidity (H.A.T.), measuring and continuously monitoring the decreasing amount of moisture trapped inside porous building materials. The two systems achieve this in different ways:
Open drying systems:
Exchange moist indoor air with drier outdoor air, negating the need for dehumidifiers
Use open windows plus fans or air movers to facilitate the exchange
Closed drying systems:
Contain (seal) the affected area from both outside air and undamaged spaces inside the rest of the building
Use air movers, heaters, and dehumidifiers to control the environment, encouraging evaporation and capture of the resulting water vapor
Outdoor Temperature Limits Use of Open Drying Systems
Although an open drying system in a large area like a warehouse is more straightforward, SERVPRO Institute of Inspection, Cleaning and Restoration Certification (IICRC)-trained technicians only recommend it under particular weather conditions. During the cooler and cold times of the year, when the outdoor temperatures dip below 60 to 70 degrees F, it becomes tough to balance the system regardless of how dry the outdoor air is. If the outdoor air is nearly equal to or more humid than the indoor air, problems with condensation or increasing the vapor load inside prevent effective drying. The result may be "inside rain."
Closed Drying System Options in Commercial Areas
Water absorbed into porous building materials and fixtures cannot be wiped off, squeezed out, or suctioned up, causing SERVPRO to consider adaptations to closed dying systems in vast commercial spaces. Partitioning flood-affected areas into smaller drying sections help accelerate the evaporation and dehumidification. We also have extensive inventories of air movers, heaters, and dehumidifiers and access to additional equipment and technicians from our nationwide network of affiliated franchises to ramp up our efforts. Trailer-in desiccant dehumidifiers are powerful equipment for enormous volume drying efforts.
SERVPRO of Western Union County is prepared to help dry out and resolve even extensive commercial flood damage. Contact us at (908) 460-5426 to get trained crews in place and working fast.